Because I was bored, I checked my twitter feed and happened to see a tweet from Kan-san... and well, since I have nothing better to do... Here goes! All the VSA related tweets from the start of this year!

By the way, Kan-san is a representative of GASCOIN Co.,Ltd, a company that produces variety shows and game software. At least according to the page on the Japanese wiki. The produce a number of variety shows for various TV stations, such as Terebi Asahi, NTV, TBS, and of course Fuji Terebi. A look at the list and... sadly I only know two shows that they produce. Hey! Hey! Hey! Music Champ, and of course, VSA.

Disclaimer: I'm not a professional translator, pardon me if there are mistakes!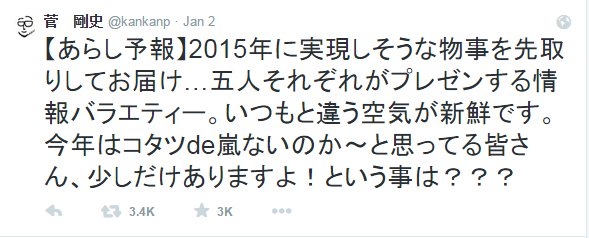 【あらし予報】2015年に実現しそうな物事を先取りしてお届け…五人それぞれがプレゼンする情報バラエティー。いつもと違う空気が新鮮です。今年はコタツde嵐ないのか〜と思ってる皆さん、少しだけありますよ!という事は???
[Arashi Forecast] Reporting to you ahead on time on the things that could actually become a reality in 2015... It's a variety where the five of them will each present on various information. It's refreshing change from the usual atmosphere. For those who are thinking 'There's no Kotatsu de Arashi this year huh', there's a little of it! What does that mean???

T/N: Ahahahaha! That kotatsu with a hoodie thing that Nino introduced! Hahahaha! If you have no idea what a kotatsu is... wiki has a very comprehensive page on it here. (In summary, it's a low table with heating underneath, and blankets so you can snuggle under the table in winter)




【vs嵐SP①】侍ジャパンの豪華なメンバー…内川さんの達者な喋りに驚いたり、中田翔さんのスイングそのものの豪快な雰囲気だったり。そして松田さんの天然っぷりが(笑)
[VS Arashi SP 1] The extravagant members of Samurai Japan... Being surprised by Uchikawa-san's lively chat, the hearty atmosphere of Nakata Sho-san's swing and so on. And then Matsuda-san's tennen-ness (laugh)

T/N: Samurai Japan is the nickname of Japan's National baseball team. As I'm sure you already know, tennen means natural airhead.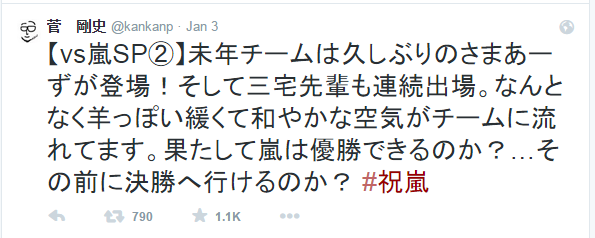 【vs嵐SP②】未年チームは久しぶりのさまあーずが登場!そして三宅先輩も連続出場。なんとなく羊っぽい緩くて和やかな空気がチームに流れてます。果たして嵐は優勝できるのか?…その前に決勝へ行けるのか? #祝嵐
[VS Arashi SP 2] Year of the Sheep team sees guests who have not been on the show in a long time appearing! And then the continuous appearance of Miyake senpai. Some way or another, a gentle, harmonious atmosphere, like that that of a sheep, was flowing in the team. Would Arashi be able to win? ... before that, would they make it to the final round? #Congratulations Arashi

T/N: Senpai means senior.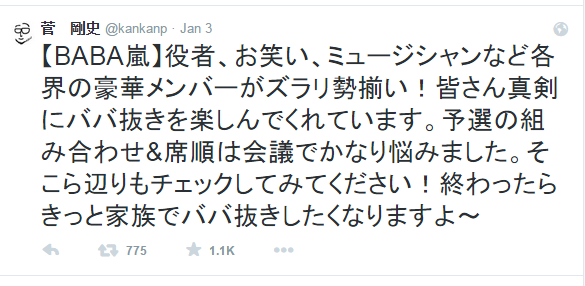 【BABA嵐】役者、お笑い、ミュージシャンなど各界の豪華メンバーがズラリ勢揃い!皆さん真剣にババ抜きを楽しんでくれています。予選の組み合わせ&席順は会議でかなり悩みました。そこら辺りもチェックしてみてください!終わったらきっと家族でババ抜きしたくなりますよ〜
[BABA Arashi] Actors, comedians, musicians etc from various fields; an extravagant line up! Everyone is seriously having fun with babanuki. (We) were troubled over the preliminary round grouping and seating position during the meeting. Please check that out too! After watching you'd definitely feel like playing babanuki with you family too~




今夜のvs嵐はオリエント急行殺人事件チームと対戦!ニノが敵チームにいる時は手強いですが果たして?プラスワンはジュニアさん小藪さんのお二人。お楽しみに!
Tonight's VS Arashi is a battle with Orient Kyuuko Satsujin Jiken team! Is Nino strong when he's in the opposing team? Plus one guests are Junior-san and Koyabu-san. Please enjoy!




vs嵐新年一発目の収録が終わりました!凄い盛り上がりでしたよ〜。五人組もニコニコ笑顔お正月の話をしつつ…。日常が戻りました!
The first filming of VS Arashi in this new year has ended! Everyone was really excited~. The five of them were smiling and talking about their new year.... Life has gone back to normal!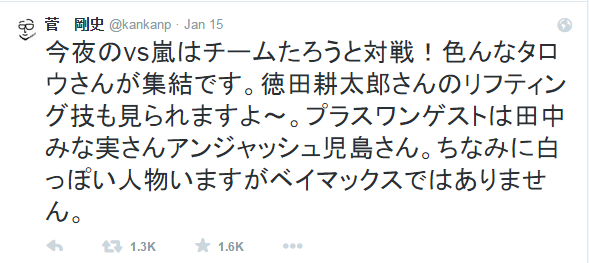 今夜のvs嵐はチームたろうと対戦!色んなタロウさんが集結です。徳田耕太郎さんのリフティング技も見られますよ〜。プラスワンゲストは田中みな実さんアンジャッシュ児島さん。ちなみに白っぽい人物いますがベイマックスではありません。
Tonight's VS Arashi is against Team Tarou! Various Tarou-san have been gathered! We saw Tokuda Koutarou-san's lifting technique~. The plus one guests are Tanaka Minami-san and Unjash Kojima-san. By the way, there's some whitish person here, and it's not Baymax.

T/N: The 'lifting' he was referring to was lifting of a soccer ball. Baymax is the name of that white character in Disney's Big Hero 6 movie.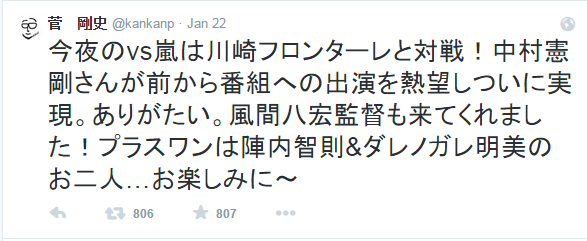 今夜のvs嵐は川崎フロンターレと対戦!中村憲剛さんが前から番組への出演を熱望しついに実現。ありがたい。風間八宏監督も来てくれました!プラスワンは陣内智則&ダレノガレ明美のお二人…お楽しみに〜
Tonight's VS Arashi is against Kawasaki Frontale! Nakamura Kengo-san's fervent desire to appear on this show is finally fulfilled. I am thankful. Manager Kazama Yahiro also came! The plus one guests are Jinnai Tomonori & Darenogaru Akemi... please enjoy~

T/N: Kawasaki Frontale is a Japanese pro soccer team.





vs嵐収録、一本目が終わりました。賑やかで盛り上がりましたよ。五人組は元気です…ツキイチ攻めの日でした。
vs Arashi filming, the first episode has finished. It was busting with liveliness. The five were in good spirits... it was the 'monthly fashion' day.

T/N: This tweet was posted today, 27th Jan 2015. I don't really have a name for Nino's monthly fashion attack... or whatever you call it. In Japanese it's literally called the 'once a month attack day'.
Another thing to note... they always film two episodes in a day, once every two weeks on Tuesdays.

Yay! All translated! Again, pardon me if there are any mistakes!

Japanese words review:
豪華 (ごうか, gouka)
1. Wonderful; gorgeous; splendor; splendour; pomp; extravagance.

If you have watched VSA, you should have heard this word. Or AnShi. It's used so often, especially when talking about the guest.


監督 (かんとく, kantoku)
1. Supervision; control; superintendence; direction.
2. Director; superintendent; supervisor; coach; foreman; manager; overseer; controller; boss.

You heard this quite often as well... when those sport teams come together with their manager/coach. Or even when they come without said person.


対戦 (たいせん, taisen)
1. Waging war; competition.

You've probably figured out the meaning of this word by now? Itou-san (VSA commentator) uses this word like ALL the time in VSA. When a new game is starting etc...
Oh and Sho too! He always says "本日の対戦ゲストは此方の方々です、どうぞ!Honjitsu no taisen gesuto wa kochira no katagata desu, douzo!" at the opening.

Word by word break down of that sentence.
本日 (honjitsu) - today
の (no) indicates procession. Like your 's.
対戦 - see above
ゲスト - guest
此方 (kochira, こちら) - this
方々 (katagata) - they (referring to people)
どうぞ (douzo) - please


熱望 (ねつぼう, netsu bou)
1. Longing for; burning desire.


実現 (じつげん, jitsugen)
1. Implementation (e.g. of a system); materialization; materialisation; realization; realisation.

If you watched Arashi's 3rd Jan new year SP, 2015-nen Sakidori Hakurankai Arashi Yohou, you would have heard this word a lot.


情報 (じょうほう, jyouhou)
1. Information; news; intelligence; advices.
2. Information; data contained in characters, signals, code, etc..

Same as above. Also used during segments like Nino's info segments on the guest in AnShi.


登場 (とうじょう, toujyou)
1. Entry (on stage); appearance (on screen).
2. Entrance; introduction (into a market).

Often used when inviting guests out etc.

All definitions copied directly from beta.jisho.org.