Edit: Voting has now closed! Let's look forward to Arashi's Live Perfmance on Music Station tomorrow! :) Results of the voting here!

EDIT: Voting ends TONIGHT! You can use another computer with a different IP address to vote again - if you have access to one that is. I managed to submit another vote on my work comp.

You may or may not have heard of it, but Music Station is holding an online poll to find out which Arashi music station appearance, out of their grand total of 104 appearances, that viewers want to see once more. By see, I'm assuming that they are going to replay the episode... I have no idea if it will be 'see Arashi re-enact that performance' but somehow I don't think so.

Well so this random fan here has decided to translate pretty much the ENTIRE poll. In a series of photographs below. Reading them will allow you to know how to vote. I've translated all the song titles and the little episode notes in red brackets even though it's not necessary. But I just felt like doing it you know? I only hope that I didn't make any mistake, especially with the song names because it's kinda late at night here and I'm a queen of typos. EDIT: Ok, I did make some typos!

Anyhow.

Go to this site to vote http://www.tv-asahi.co.jp/music/sec/opinion/arashi_request.html



This is the page you'll end up in. Click the one and only button in the middle to proceed.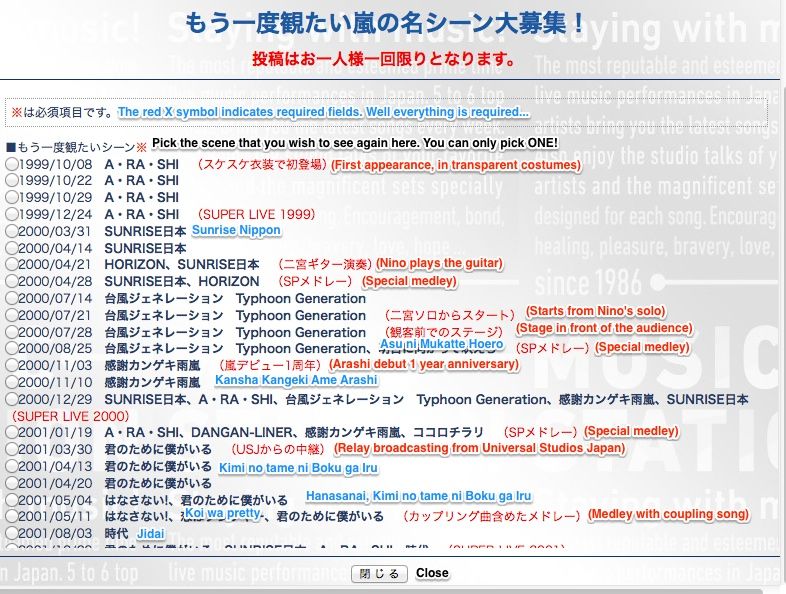 A new window should pop up.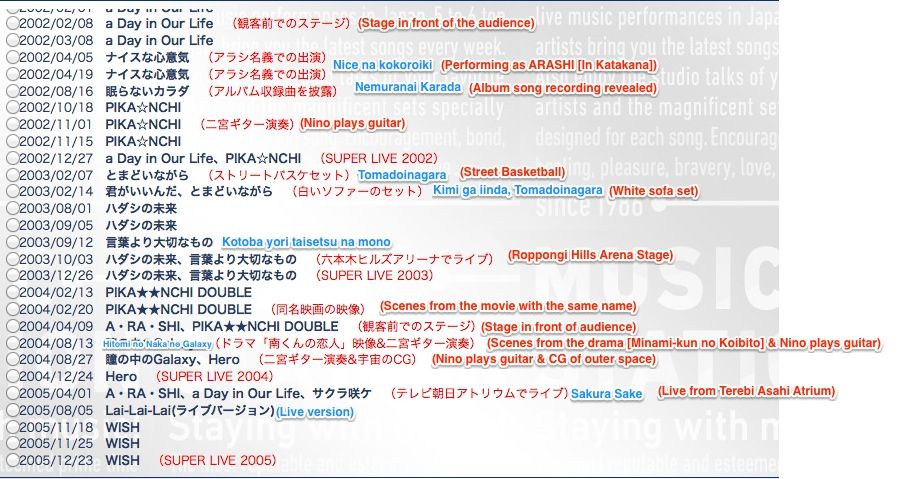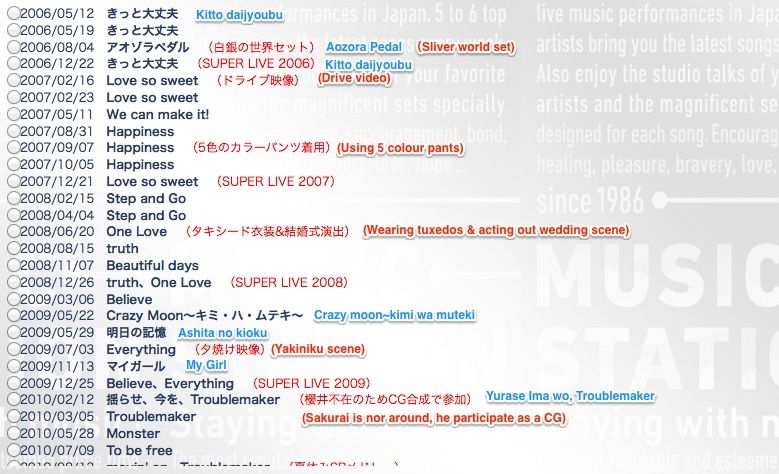 I confess, I have not watched all their music station performances/appearances yet, so I hope I didn't translate any of the red text wrongly, because some of it is a little hard to understand with no context.
Edit: Mou... I see a typo already. (Sakurai is NOT around). Yeah. The other four members danced with a CG Sho because the real Sho was reporting news in the Vancouver Winter Olympics.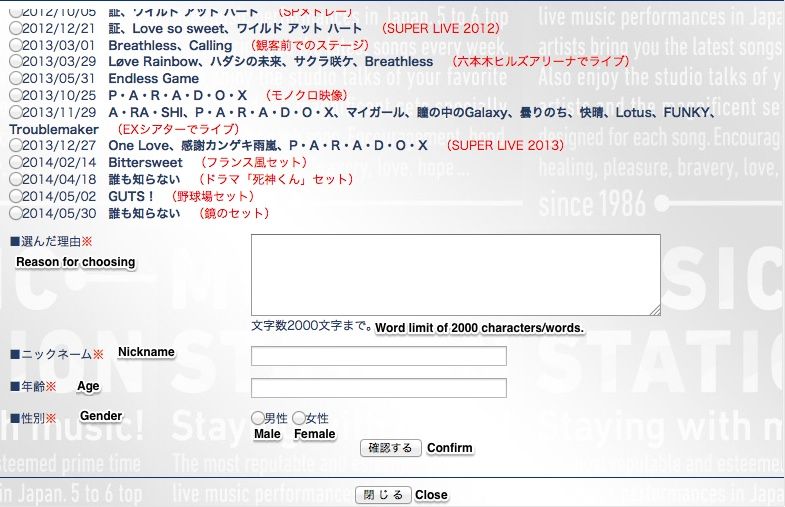 Finally we are done with the 104 appearances. There's a couple of stuff you need to fill in. Click the confirm button when you are done. Of course it is best to type in Japanese otherwise the Music station staff won't understand you. But if you don't know Japanese, there's nothing you can do about it right? Just type in English it's fine! Hey at least your vote will still be counted! XD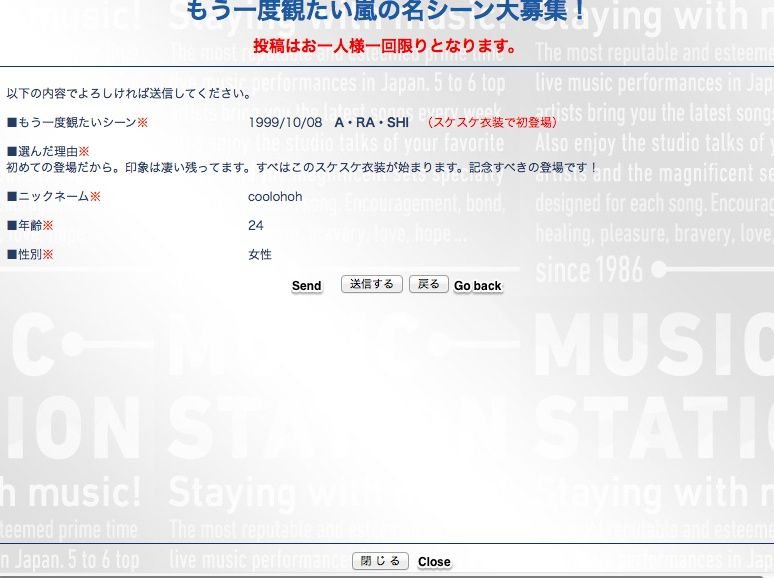 Just a confirmation page. Click on submit when you are satisfied with your selection.

I've picked their very first Music Station appearance. I'm a sucker for sentimental values, that what could be more sentimental then their debut appearance, singing their debut song, wearing those legendary transparent costumes? The costumes that even other groups like Kanjani8 and Golden Bombers have tried on... Everyone wants a taste of being Arashi ne? XD It has truly become a 'trademark' of Arashi... I doubt they thought so much about the costume then. They would never have expected themselves to be wearing the same costumes 10, 14 years on. Who would have thought those embarrassing looking raincoats would end up becoming so famous after all?



And lastly just a message confirming that your vote was submitted.



I tried to vote again right after my submission, but I get an error message. So it's as they said, 1 vote per person/computer/IP address. Or something. XD

That's all!

Well anyway, do share with us what you vote for and why! I'd like to hear everyone's favourite performance!

Ja... till next time! Peace out!